SAFETY
The workers' safety has been assured for many years (in Italy recently by law 81/2008): it is not just a cost or a problem born by our clients, but a guarantee also for them, to protect them from the legal point of view (being they co-responsible), as well as to protect their safety itself, getting also the advantages from a better management.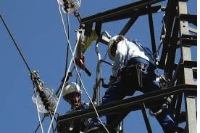 Koppel A.W. always gave importance to this topic, and, thanks to this, got an accident statistics really favourable so far, for its personnel and for the users of course. As our goal is always beyond, Koppel A.W. wants to certify its safety management system according to OHSAS 18001 standard, with DNV, in order to get a continuous enhancement of this issue.
Naturally certification means first of all respect of any compulsory rule and law.
Prior to this, Koppel A.W. wrote, and is keeping updated a Risk Evaluation Document, where working procedures are described, from the safety point of view, the equipment used, to be periodically controlled, and possible residual risks are analysed, with respective corrective actions, including the use of individual protective equipment.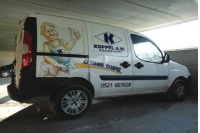 For the different types of working sites Safety Operating Plannings are worked out. With the suppliers who work within the company's premises Interference working documents have been agreed. An emergency plan has been worked out, and periodically safety training is done to workers, whom are also periodically visited by the company's doctor.
Apart of the generale Risk evaluation, specific (compulsory) risk evaluations have been draft:
- for fire in the company's premises
- for manual load moving
- for working stress
- for exposition to noise and vibrations
- for exposition to chemical agents