Certification For ISO 9001, ISO 14001 e OHSAS 18001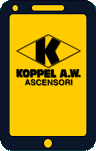 Are you using a smartphone? Clic for the mobile version
Koppel A.W. has been active in Parma, Italy and in the international lift, elevating platform, escalator and starilifts installation, modernization, and maintenance markets since 1958.
The company offers its customers the maximum flexibility in order to satisfy their requirements. Wherever possible, the company avoids using proprietary components in favour of the open source technology, which offers the twin advantages of being advanced but simple, in order to offer its customers the maximum possible freedom of choice, but also the maximum chance of customization of products.
The company's aims are:
- to supply products that offer the maximum safety and functionality.
- the minimum energy consumption and maximum respect for the environment during the whole life cycle of the product;
- to produce lift systems that offer the maximum possible accessibility to all passengers
- a commitment to pursuing a policy of social responsibility within its sector to all stakeholders.

Parma Football supporter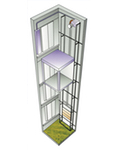 New electric elevating platform